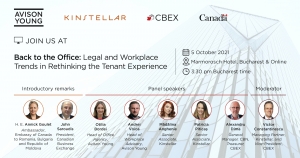 We are pleased to invite you to a 
hybrid event
that will focus on the ardent
topic of returning to work. 
The speakers will tackle 
the subjects: the 
legal aspects of today's new
working styles and the 
trends in
optimizing the employee experience
.
Back to the Office: Legal and Workplace Trends in Rethinking the Tenant Experience
Date: 
Tuesday
, 
5 October
 2021
​
Time: 
3.30 pm Bucharest time
​
Where: 
Marmorosch
 Hotel & Online
RegistrationAttending the webinar is free of charge but registration is mandatory. Please email us at simona.constantinescu@cbex.ro mentioning the way* you would like to participate at the event.
*please note that, due to COVID restrictions, the number of seats is limited.
Thiseventaimsatsettingthesceneonthemultiverseofwork
-whatwehavelearnedfromlast
yearandwhatisgoingontodayfor
landlords,tenants
andemployees,whatareemployees'
expectationsandworriesinreturningtowork,andhowcancompaniescreatehealthyand
attractiveworkplaces
,whileatthesametimerespectinglegalrequirements
.

On the multiverse of work: what we have learned from last year and what is happening today

What is the right mix for hybrid work today?

Various legal concerns spurred by the pandemic, including 
vaccination requirements, cyber
Agenda
H.E. Annick Goulet
, Ambassador, Embassy of Canada to Romania, Bulgaria and the Republic
of Moldova
John Saroudis
, President, Canadian Business Exchange
Conversation participants:
OtiliaBordei
,HeadofOfficeAgency,
AvisonYoung
AndreiVoica
,HeadofWorkplaceAdvisoryandProjectManagement,
AvisonYoung
MădălinaAnghenie
,SeniorAssociate,specializedinEmploymentandLabourLaw,
Kinstellar
PatriciaPiticaș
,SeniorAssociate,specializedinEmploymentandLabourLaw,
Kinstellar
AlexandruDima
,
GeneralManager,
CBN
,Treasurer,
CBEX
Moderator:
Victor Constantinescu
, Managing Partner, Romania, and member of firm management
committee, Kinstellar, Vice-President CBEX
Concluding Remarks and Questions